Son of a Witch Demon Hunter Update
This MEGA update is a free DLC-sized upgrade to the base Son of a Witch game. The update will be free for existing players, but the game price is likely to go up after this is released.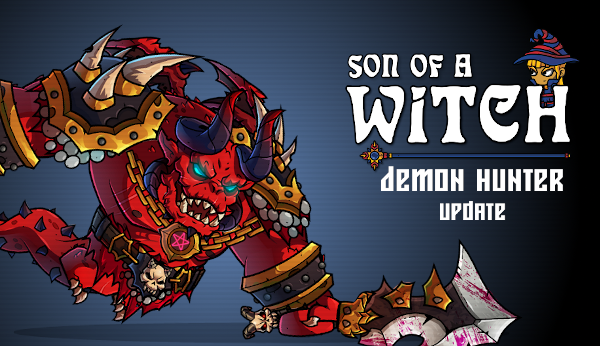 1. Heroes
new hero: Lich. Undead, uses health energy to cast spells instead of mana. Can heal with mana gaining items or pets.
Rogue Hero starts with pickpocket and speed buff effect
Rogue hero magic key costs 1 mana, and can unlock boss room doors from the outside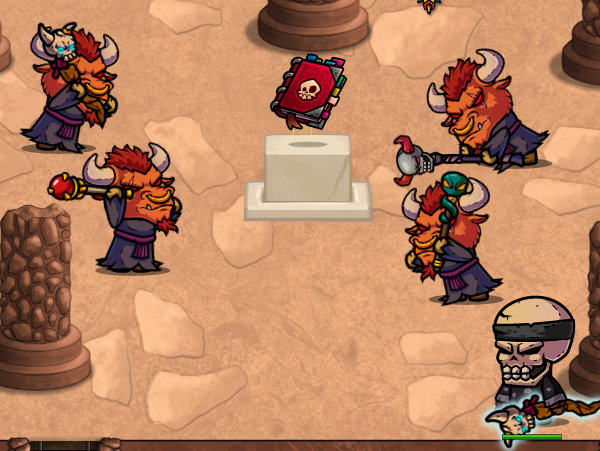 2. Levels:
new level Hell with new music, thrist effect and 26 new room layouts
special room: minotaur labyrinth, gives access to the Lich hero
special room: pentagram, needs donation of mana, health rune, gold and king scepter to enter hell
special room: forest in ice level where you play hide and seek with Amanda
special room: prison surgeon where you can donate health for gold
special room: knife avoiding twins challenge in the desert
special room: treasure challenge with multiple bushidos in the desert
special room: fishing with bow and arrows in hell
new object: Crystal Sphere - protects demonic enemies and blocks magic scrolls until destroyed
new object: Lava Pit - petrifies players standing over it when it spits lava
new object: Minotaur Statue - teleport to the start of the level
new object: Bag Statue - players can now transfer gold coins amongst each other
hell shops have new type of protection and require mana to buy items
new treasure room in the catacombs and the desert
required distance for the second jump in the Long Jump quest reduced to 80
in hard mode the evil princess has become the queen and has strong guard in the throne room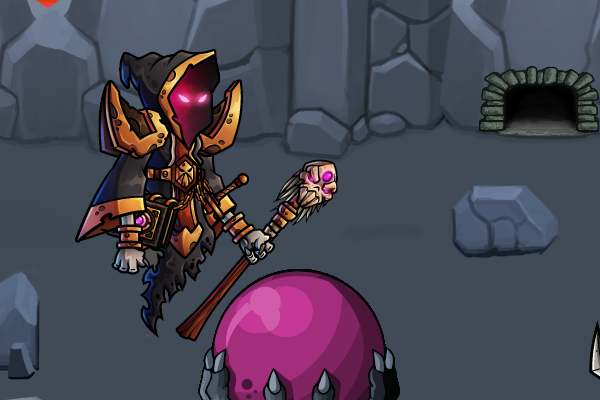 3. Bosses:
New boss: Demon Legion - big demons spawning unless you kill them all once
New boss: Matilda - a huge witch that creates traps for players
New boss. Ghost of Rhadamanthus - shoots many orbs and buffs his minions with random effects
New boss: Demon Lord - fight in active volcano arena with lava petrifying players
Ice dragon sometimes shows up on the battlements
Elephant boss knocks down units when walking across the screen
4. Enemies:
New: Imp - standard melee warrior, immune to fire and petrification
New: Familiar - infernal mage can block your mana usage
New: Fiend - quick with poisoned swordes and abilit to teleport behind your back
New: Succubuss - shoots orbs and cheers at players with a beer, reversing their controls
Newy: Efreet - flies around and spits very flammable fireballs
enemies in the old catacombs no longer have huge HP in hard mode
Bandits in the dungeon sometimes carry flaming swords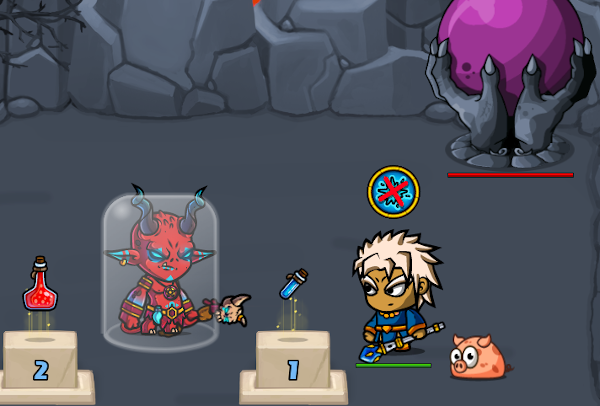 5. Weapons
new weapon: Spellbinder - shoot orbs and block enemy mana usage
new weapon: Magic Crossbow - shoots arrows and creates gold arrows using mana
new weapon: Blacksmith's Hammer - throw at enemies and smelt weapons into shields
new weapon: Overlord Staff - give random positive effects to self and allies
new weapon: Blade of Light - triple damage vs undead and demons
new weapon: Hypnosis Staff - turn non-boss enemies against each other
new weapon: Brutus Gladius - a sword with high backstab damage
Increased combo timer for the Barbarian Axe to 3 seconds
Increased base damage for Ice Bow to 50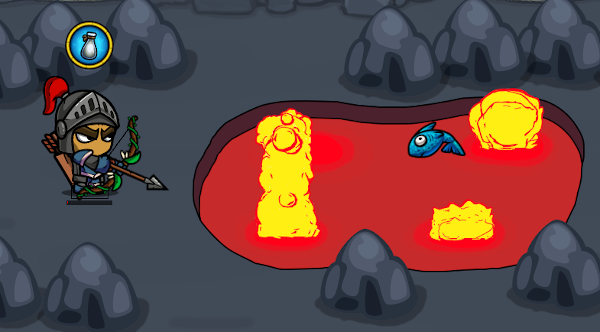 6. Items
new item: Homing orbs - chance for magic orbs to auto-target enemies
mew item: Magic Ice Bottle - use mana to create ice arrows
new item: Four-leaf Clover - increased double damage chance
new item: Holy Grail - Speed UP, Health UP, Magic/melee/archery UP
new item: Faustian Ring - increase melee/magic/archery for 20 health
new item: Minotaur Figurine - teleport to avoid death
new item: Honey Jar - temporary speed up when you get hit
new item: Stone Cross - double damage vs demons and undead
new item: Hourglass - speed down, melee/archery/magic increase
new item: Chili Pepper - enemies burn when they hit you
new item: Wizard's Amulet - get 1 extra mana when entering new rooms
new item: Claw Hammer - get coins when barrels break
new item: Cooper's Ring - get mana when barrels break
new item: Phylira's Necklace - break barrels to get armor points
new item: wine - reduced thirst effect
new item: Lich Ring - full heal after boss fight
new item: Scales of Balance - increased damage when hungry, thristy or poisoned
new item: pair of heart-shaped earrings - double healing effects
reduced mana cost for Rogue's Magic Keyring to 1 so you can sneak around the levels freely
Silver coin teleport out of old catacombs is now allowed
Alchemist's Visor now protects from Santa's exploding presents as well
7. Potions
New potion: Blood is Magic - lose all HP, get 3 mana
New potion: Blood donor - turns current HP into gold
New potion: Ironclad - increased damage scaling with armor
Extravagance spends coins only when you enter new rooms
Pickpocket effect now gives coins on room entry
Bugfix: Dragonfire potion would remove arrow damage multiplying upgrades
8. Magic Scrolls
New scroll: Summon Demon - all enemies attack it at once
New scroll: Mark of the Beast - everyone loses 666 HP
New scroll: Hypnotize Minions - enemies attack each other
Added more units and bosses to Gamble scroll rotation.
Duplicating weapons now clones damage, range, arrow speed upgrades as well.
9. Pets:
New pet: Koala - a free item in every shop
New pet: Panda - fetches gold coins and food
New pet: Skunk - sets enemies on fire
New pet: Sabertooth Tiger - gives +1 shield after every battle
New pet: Squid - gives random positive effect after every battle
Whale pet gives you a Kindling upgrade once a campfire stops burning
Penguin pet no longer tries to attack enemies who have freeze immunity
Snake pet no longer attacks enemies who have poison immunity
10. Other new features:
new main menu graphics and music
27 new achievements
You can now hold the drop button to drop the whole stack of items (arrows, keys, etc.)
tracking win/lose streak for regular game and hard mode.
allow entering any text as level generator seed (it gets converted into valid seed)
now you can drop gold to double it with a scroll, or heal via gold diet
Tar of Akhal picture shown in the final mom dialogue
show the exact speed increase over speed buff status icon
added option to reset all controllers to default settings
allow binding Stomp attack to a separate button
optional setting to shoot orbs using the regular attack button
11. Fixes:
Allowed using ranged weapons for the Goliath achievement
fixed Paladin to do double damage to undead with ranged weapons as well
fixed a bug where ranged enemies would try to hit the Turtle pet endlessly
fixed a bug when some monsters would get stuck attacking Turtle pet forever
fixed a bug where the dialogue would pop up without key/button to continue the talk.
fixed a bug where Undead Archer was unable to animate other undead sometimes
fixed a bug with raised undead Archers always shooting arrows to the left
prevent players getting stuck when hedgehog pet blocks the rolling spiked balls
Vampire Slayer NPC now says Thank you when her quest is done
achievement animations keeps working if you go from game into the main menu
prevent raising petrified undead
remove Confusion and Peace effect when undead unit dies
added sound effect when some action fails (no money to buy stuff, etc.)
imprved camera controls and thus enabled Baseball Quest for players with screens below 1680x900 pixels
imprved camera controls and thus enabled Hornet Quest for players with 720p screens
Message text for some actions would be hidden behind player status effects. Moved them above when status effects icon is visible.
added statue players can use to teleport if they get stuck with dead player in co-op (gold shop, alchemist quest, treasure rooms, etc.)
The final portal now shows that hell level is beyond instead of ice level
allow re-binding strong and special attack to the same button
fixed problem with minimizing game window on macOS in fullscreen mode
Steam version (PC,Mac,Linux) specific changes:
added Steam leaderboard for the Endless arena
you can now see the daily challenge rankings for friends only
when some actions failed for a network guest, the reason would show on network host screen instead
fixed netcode bug where some actions would fail without any notice text
just minimize instead of closing the game when opening game's Steam page
prevent mouse clicks when way outside of menu items in the main menu
press F1 twice to see the progress for achievement counters
Nintendo Switch specific changes:
added Daily Challenge for Nintendo Switch port
enabled CHALLENGER achievement for Switch.
greately reduced number of undead in endless arena in Switch port for performance reasons
Have fun playing!
read more...
Tweet to @bigosaur
Tweet
Bigosaur, 2021-01-19