Crypto Miner Tycoon Simulator
I love to start my projects with a nice logo and main menu screen. It gets me motivated: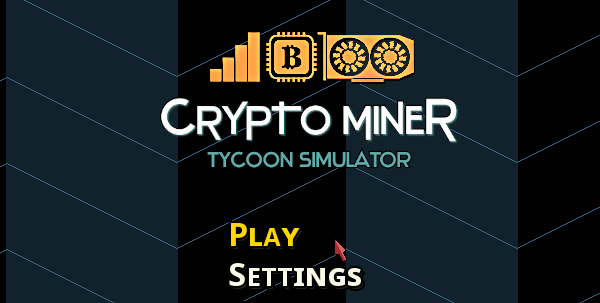 I decided it's time to start making a new game. I'm looking at my strengths and weaknesses, and making good quality art is definitely the most time consuming. On the other side, programming is my strong side and it feels fun even when I have some hard problems to crack.
Because of this, I'm picking a project that's heavy on programming, optimizing code, etc. and doesn't require a lot of graphics. Still, there will be a decent amount of pixel art to draw.
It will be a management/tycoon type of game focusing on crypto currency mining business: building rigs, placing racks, managing cooling, dust, noise in your data centers, hiring people to help you, etc. The idea is to go back in history and start from year 2010. and see what it felt like to be mining back then.
I researched Steam a bit, and there are a couple of failed projects with this theme, and they still seem to have sold a decent number of copies. So, it looks like the demand is there and players really want to play this type of game.
That's the main reason why many of these development blog posts will feel backdated - wanted to keep the project secret for a long time.
I'm going to reuse the same game engine I was using for Son of a Witch, Rogue Bit and my other games. It's a very flexible C++ engine, which will allow me to add any performance critical code easily. I plan to support thousands of mining units without drop in performance.
read more...
Tweet to @bigosaur
Tweet
Bigosaur, 2021-03-10