My Mom's a Witch
In the past 7 months I have been planning a new game to make. It will be a multiplayer action brawler like Castle Crashers with cartoony graphics. The main problem I have with CC is that once you complete it, there's no incentive to play more. So, I decided to combine the brawler mechanics with roguelike elements: permadeath, procedural generation of levels, items, enemies, etc. and non-modal gameplay (esp. important if you have 4 players playing).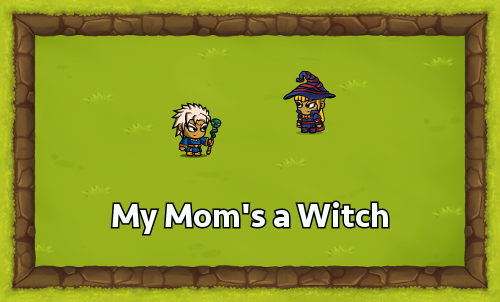 I have most of the concepts on paper and spreadsheets and some 60% of the graphics is ready (still need to work on animations and special effects a lot). Current plan includes: 12 heroes, 44 monsters, 16 bosses and 6 different environments (forest, battlements, castle, dungeon, catacombs and a special ice level). Additionally, 50+ different weapons and items will be available to loot and use for the first version, and more planned later.
There will be 3 distinct play styles available, focusing on melee, ranged or magic combat. The player's starting class would determine the proficiency (i.e. base damage and effect modifiers) but the player can upgrade during the game and become multi-class if desired (and RNG does not get in the way). Melee combat is going to work similar to Castle Crashers with additional "rage" mechanics, which is a meter that fills up and you can use a special attack then.
The levels will be laid out like rooms in the Binding of Isaac with boss fights at the end of each level. The mana system and magic items will work like batteries in Isaac (i.e. you need to complete a couple of rooms before reusing the special magic) and the regular magic users can constantly shoot various weak projectiles similar to tears in Isaac.
I plan to post my progress every day, so stay tuned
read more...
Tweet to @bigosaur
Tweet
Bigosaur, 2016-03-01