Day 21: Monetization of Android game
I'm making this game as an experiment, so I don't expect to earn much money. This game is going to be free to play, with option to buy coins in the game if you want. I like the way it's done in games like Pudding Monsters where players can play everything without paying at all. Drone Invaders will be completely playable without paying a dime, so it is not a kind of "pay to win" types. However, I still want to enable players who can't wait to have fully powered up weapons right away.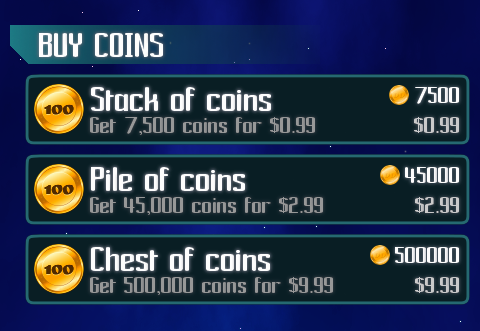 I opened the Google Play account without problems. It was $25, which is fine. I just read some blog post where a solution to saturation of Google Play was suggested - it proposed to have $5000 registration fee, so only developers who are serious would apply. I'm not sure if I would apply for $5000, it seems so me that only big studios who are already making money on other platforms would participate.
However, opening a Google Merchant Account is mission impossible from my country. So, what are the options. Well, you can still add payments with services like Fortumo or Centili, but this has two problems: 1. it goes against Google Play terms of use, so you either risk getting your account suspended or you only publish to other Android app stores (there are some 30+ as far as I can tell, and some stats say they make up about 30% of the market, although this seems too high to me). 2. to enable payment via SMS, your game needs to ask for two system permissions which users probably won't like: send and receive SMS. Although this is the only way to enable monetization in some countries, if you aim for US market, it's a bad idea.
Third option is to start a company in USA and register account that way. This is of course the right thing to do if you expect to earn some substantial amount of money from your game, but having an US company brings in some costs. There are specialized agencies that can register you a company in Delaware. Delaware is a USA state and a tax-haven. Of course, you can always transfer the earned money from there to yourself, and then pay the taxes locally on that transfer. I'm not ready for this step yet, as this is my first game and I have no clue if I will make any money of it.
Luckily, I have a friend who lives in US, so we opened an account under his name, and the game will be released under that account. At least merchant account is available for US individuals. I still don't understand why Google won't allow merchant accounts from my country, when I'm receiving money from their AdSense directly, without any problems. I guess not all departments of Google have the same policy.
read more...
Tweet to @bigosaur
Tweet
Bigosaur, 2013-10-20