Day 1: Backyard Panic
Looking at some websites with animation stuff, I found some nice, freeware, zombie animations. They have even animations for zombie being shot, crawling, etc. So, maybe this game could be a zombie shooter.
Your character would sit on his/her porch and shoot the zombies coming out of the cornfield. The game would be called Backyard Panic. You could switch different characters from the old granny, redneck with a shotgun, to a member of the Marines with some long-range rifle. Here's a really, really rough sketch: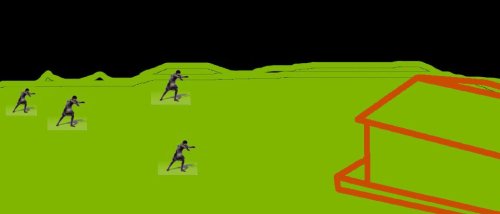 Update: I just played Zombie in USA. Interesting game, but gets a little bit boring to tap the device like crazy. I want a single touch equals kill type of interaction, at least for non-boss enemies. As I think about it more, the whole zombie topic seems too gloomy for me, and having yet another zombie game is hardly called fresh. So, I'm not sure about this. Also, it seems it would involve 3D graphics, and I'd like to stick with 2D, at least for my first Android game.
Stay tuned. I plan to post my progress each day.
read more...
Tweet to @bigosaur
Tweet
Bigosaur, 2013-09-30