Son of a Witch launches on Switch September 4, 2018!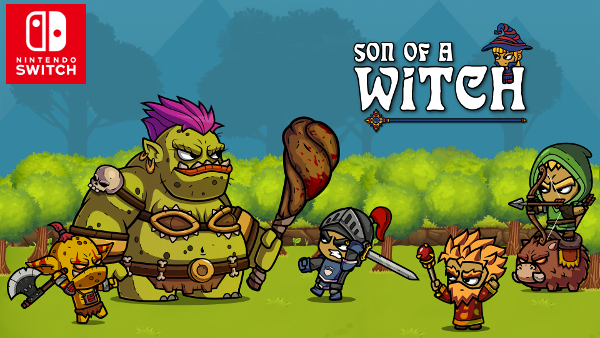 August 22, 2018 -- Son of a Witch, the adorable action roguelike that won over hearts with official selections at IndieCade Europe 2016, IndiePrize 2017, and Game Access '17, is about to launch on Nintendo Switch on September 4, 2018.
After 3 years of development and a successful launch on Steam where it currently holds 92% positive rating, the game is about to hit the console platform where its couch co-op gameplay will shine. A new release trailer highlights the magical hack and slash hijinks players will be able to enjoy in solo, co-op, and four-player sessions.
Son of a Witch recalls the compulsive replay-ability of your favorite roguelikes but wraps it all in a charming package, making it a lot more welcoming to a wide range of gamers than your standard fare. But don't let the cutesy graphics fool you: Son of a Witch offers deep mechanics that reward constant experimentation and learning. Son of a Witch boasts over 120 unique weapons and items to discover. Players will only find a small section of these in each run, meaning the game is completely different every single time you play. There are also 7 playable characters with wildly different skill sets and abilities, over 20 bosses to beat, and 30 pet animals to find.
Bigosaur is expecting the game to be even more popular on Switch, because players often like to play in couch co-op setting on the console. Milan Babuškov, creator of the game, said "After completing Castle Crashers for the second time, I started thinking: what would make a beat'em up game more replayable and interesting in the long run? Inspired by some roguelike games like The Binding of Isaac, I added procedural map generation and over a hundred different magic spells, items, weapons, quests and game mechanics that you can combine in interesting ways. Always having a new map to explore and weapon combos to discover is the reason many players already have 100+ hours in game on PC. I'm excited to see the community feedback on Switch, as it will be a great motivation to continue improving the game in the future."
Son of a Witch will launch on American eShop on September 4, 2018. Check out the release trailer here.
https://www.youtube.com/watch?v=rQY-P-vkLck
About Son of a Witch
Key Features
Explore non-linear procedurally generated dungeons
Fight your way through random encounters with monsters and a selection of 24 bosses
Find shops, treasure rooms and challenge rooms
Complete NPC quests to unlock playable characters
Get help from one of 26 cute pet companions
Drink random potions to power up or increase the challenge
Identify and use powerful magic scrolls
Every weapon has some unique ability or attack type
Every item you find has its use or special mechanics
Single player and up to 4 player co-op
Three different play styles: melee beat'em up, magic shooter and archers sniping enemies from a distance
Permadeath. A new world is created every time you start the game, so it's always fresh and interesting to explore
---
Game information
Title: Son of a Witch
eShop page: https://www.nintendo.com/games/detail/son-of-a-witch-switch
Genre: Fantasy, Indie, Co-Op, Roguelike, Hack and Slash, Dungeon Crawler
Developer: Bigosaur
Publisher: Bigosaur
Nintendo Switch release date: September 4, 2018
---
Screenshots, graphics assets: http://sonofawitchgame.com/media.php
---
Contact information
Milan Babuskov, Bigosaur switch@bigosaur.com
---
read more...
Tweet to @bigosaur
Tweet
Bigosaur, 2018-08-22