Description
A single bit of computer memory became sentient and decided to escape from digital into the real world. Explore RAM, modify bytes and hack machine code and CPU registers to set it free.
History
Game ideas are a dime a dozen, but great game ideas are very rare. It was through a set of coincidences that I reached to the Rogue Bit idea. At first I wanted to make a game about a rogue byte in computer memory, but after some research I discovered a peculiar fact that 7-th order bit in a byte maps exactly to the @ character in the ASCII character table. As @ is commonly used for the player avatar in roguelike games, it became obvious that it would be an awesome idea to have the player play as a single bit, while still being able to see themselves as @ in the ASCII view. The story is that a bit is sentient and wants to escape instead of performing its function in the computer. So, he goes rogue. Another fitting coincidence, because of @ character in Rogue-like games.
Features
Use power of XOR to invade other bytes
Explore RAM and find ways to sneak around other bytes that have the 7-th bit set without XOR-ing yourself to zero.
Decipher machine code and assembly language of the programs running in the computer.
Invade CPU registers to alter execution logic.
Modify data in RAM or program instructions themselves to affect code execution.
Escape into the real world by printing yourself or uploading to the Internet.
Full keyboard and controller support.
Includes achievements, some of which are unlocked by finding secrets and hidden areas in RAM.
Logo & Icon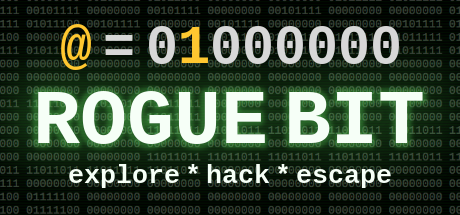 Selected Quotes
"This is one of the most unqiue games i've seen that uses computer logic to its advantage."
- One of the reviewers on Steam, Steamcommunity.com
About Bigosaur
Boilerplate
A small developer with big ideas.
More information
More information on Bigosaur, our logo & relevant media are available here.
Rogue Bit Credits
Milan Babuskov
Game Design, Programming and Graphics
OurMusicBox.com
Music
Contact
presskit() by Rami Ismail (Vlambeer) - also thanks to these fine folks