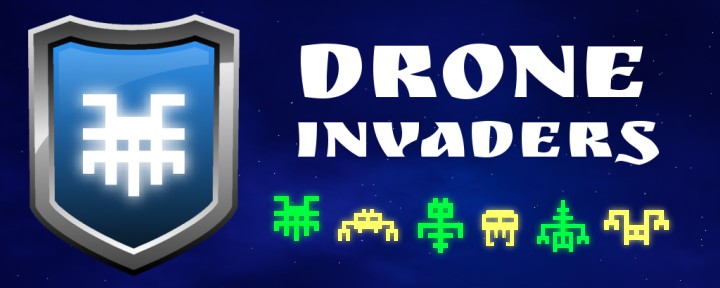 Description
You're in control of a laser gun turret, the last defense against incoming invasion of alien drones.
History
I was looking for a nice shoot 'em up game to play on my phone and tablet. There are many games out there, but they all involve moving around a spaceship, airplane or some other vechile. This is rather awkward on mobile device. Not only it gets tiresome, but your hand is often covering half of the screen and obscuring the view.

Drone Invaders is a space shoot 'em up game, but without the spaceship. It is created specially for mobile devices in mind. The player position is stationary, just below the bottom of the screen. From there, you tap the screen to shoot the incoming aliens. If any one of them passes, the game is over. For additional protection, you can pick up or buy shields and swipe upwards to raise them.

The game was created as part of LudumDare October challenge, which is to publish the game and earn at least one dollar. I have created the game in 23 days, and blogged about each day of development with screenshots and videos.
Features
20+ different alien types
Many challenging attack formations
Different boss spaceships every 10 levels
Upgradable weapons and shields
Random powerups to grab during play
Missions, daily and weekly challenges
Player progress using ranks
Great background music
Free
Videos
Gameplay with powerups YouTube
Logo & Icon

Selected Quotes
"With all the running around for the holidays I've been doing lately, it fills in those small pockets of free time perfectly."
- Indie Mine, Indie Mine review
"Highly addictive! You just won't want to put your phone down! "
- Shiva Kumar, Reviewer in Play Store
"Drone Invaders is surprisingly addictive - the game play has been highly enjoyable. Congratulations on shipping a really fun game!"
- Ryan McGreal, quandyfactory.com
About Bigosaur
Boilerplate
A small developer with big ideas.
More information
More information on Bigosaur, our logo & relevant media are available here.
Drone Invaders Credits
Milan Babuškov
Game design & development, Bigosaur
Kevin MacLeod
Music, incompetech.com
Contact
presskit() by Rami Ismail (Vlambeer) - also thanks to these fine folks