The Final Jump: puzzle platformer
Starting this year I wanted to develop some applications for iPhone and iPad, so I got a Mac Mini. My other computers are 7+ years old, so I couldn't run any recent games. Over the years I accumulated games via Humble Indie Bundles and I finally got to play them. I'm very impressed with Braid, VVVVVV and Limbo.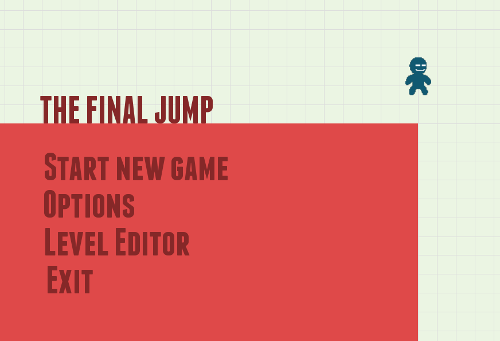 A few days ago I realized that I wanted to play more puzzle platformers like those, but there aren't many around. So I decided to build one. The idea is to take from each game the element I like:
Braid: brilliant puzzles
VVVVVV: old school graphics
Limbo: continuous camera, puzzles with box2D physics and scripted enemies
The main gripe I have with all of those games is that they were too short (ok, Braid maybe not so, because puzzles were hard). I plan to make A LOT of levels in my game AND I will make a level editor with "cloud save", so you'll be able to upload and share levels on the game's website. Other players will be able download and rate the levels. If players really start contributing a lot of levels, I'll pick the best ones, pack them together to continue the main games story in a nice way and release as a DLC package.
Because of this, editing levels should be fun. My plan is to mix editing and play mode, so you can play the level as you edit it. Just drag the player, walls, boxes around. You will be able to freeze the enemies and such, but editing should be as fun as playing.
Also, my kids are begging me for multiplayer mode, so it might have separate local co-op puzzles for 2-3 players. Joystick/Controller support is also a must as I plan this to run on desktop computers (Windows, Linux, Mac).
read more...
Tweet to @bigosaur
Tweet
Bigosaur, 2014-11-05