CM:TS - Trade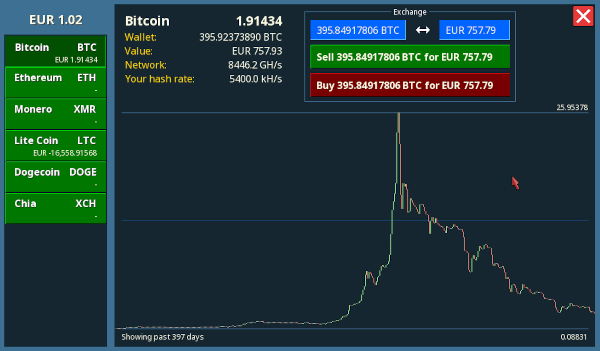 You can trade crypto currency and watch the market trends. This feature was something I was fearful of, but it turned out pretty straightforward to make. As I learned more about he actual graphs used on the stock market, I figured that it could be simplified a lot as players don't really need all that information and would probably be confusing to many. So, you only have the current price and daily movement.
The game uses real market data, which includes prices, hash rates and mining block rewards. I was fearful of this, but it turns out that it posses a pretty good challenge as the real market had its ups and downs over the years.
For trading, I have decided to scrap the spread and simply allow to always transact for 100k coins. If you buy or sell a lot, the price will move. To prevent infinite money with instant pump and dump, I have added a 6% transaction fee. You will be able to lower this by running your own exchange in one of the scenarios.
read more...
Tweet to @bigosaur
Tweet
Bigosaur, 2021-12-02