Windmill Kings
Here's a project I have been working on for some time. It's a real time strategy game for 1 or 2 players focusing on quick battles.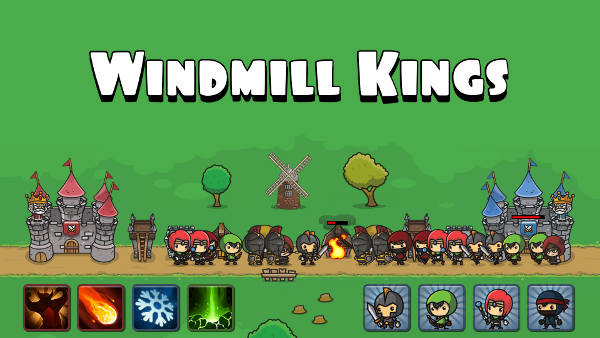 The Story
Once upon a time, there was a king. After a glitched teleport spell created a clone, there were two kings. The evil black wizard betrayed the real king and the clone took over the throne. Help the real king rally the troops and get his castle back.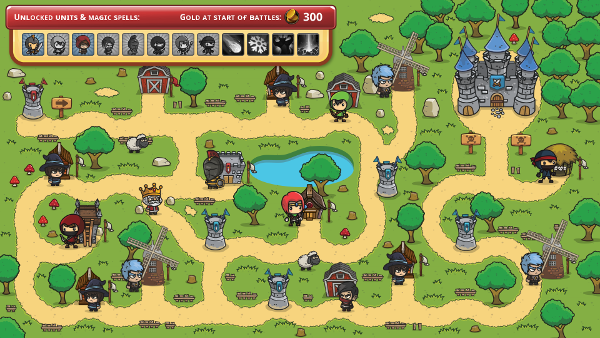 Single Player Campaign
The game has two modes. In campaign mode, you play as the real king who starts with a small amount of gold and an army of knights. You roam around the map and fight different enemies to convince them to join your forces: Archers, Healers, Ninjas, Champions, etc. You can also conquer windmills to get more gold to finance your army; and mage schools which provide you with useful spells like Meteor Shower, Freeze Enemies, Earthquake and Summon Giants. The campaign ends with an epic battle where you use all your forces and magic to defeat the clone king and recapture the castle.
2-player versus game
In versus mode, two players play a battle with all the units and magic unlocked. You can pick the size of the battle, starting with a small skirmish with just two towers and ending with a total war with two castles on each side. You can also play this mode single player versus computer.
Gameplay
The battles happen in real time. You pick which troops to create and send them to destroy the enemy fortress while defending your own.
The game offers a variety of tactics: Send knights and champions to attack the enemies in close combat. Archers are weak, but attack from distance, so you put archers and marksmen behind the knights. Afterwards you can recruit healers and clerics who can fight, but also heal other units. And you can add spies and ninjas who sneak past enemy lines and demolish their buildings. And finally there are giants who are hard to stop, but you can use some magic to make it easier. All units have an upgraded variant that requires that you construct a building during battle. You can also demolish enemy buildings to prevent them from recruiting upgraded armies.
The computer AI is completely transparent - you can see how much gold and magic points it has and what exactly is it doing. This makes every battle feel fair.
There are two difficulty settings: Easy mode for casual players and kids, and Normal mode for players who are experienced with real time strategy games.
read more...
Tweet to @bigosaur
Tweet
Bigosaur, 2019-09-24